"Once upon a time in country music, there were giants walking the land. Waylon Jennings may have been the tallest of them all"

Waylon Jennings was born just out side Littlefield, Texas on June 15th, 1937 (downtown street scene in Littlefield, Texas) to William & Lorene Jennings. Waylon's love for music was at an early age. In the 50s he was with a group called "The Texas Longhorns" and at the early age of 14 became a DJ at KVOW in Littlefield. The Texas Longhorns would play around Littlefield, Levelland and Muleshoe. It was in Levelland that Waylon met Maxine Carroll Lawrence. In 1956 Waylon's mother and brother, Tommy, drove them over to Clovis, New Mexico and Maxine and Waylon got married.
Over in Levelland, Texas H.E. Corbin and his two sons, Sky and Ray were working radio station KLVT, also on staff was Terry Belyeu. Terry and Sky had heard of this young DJ over in Littlefield and one day the two of them drifted up Littlefield way to meet this young DJ. Waylon accepted an invitation to come over and check out KLVT. Looking at a pay increase Waylon was soon a DJ at KLVT. Sky and Ray were looking for a station of there own and settled for a station in Lubbock, Texas. The brother approached Waylon about joining them in Lubbock. FCC approval came in April of 1958 and KLLL was on the air. The next two years were unforgettable, country boys taking on the big city.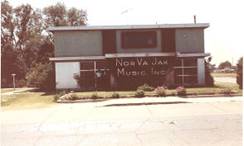 A up and coming singer from Lubbock was making rock & roll music history, his name was Buddy Holly. Buddy was making records in Clovis, New Mexico at the time and would come to the station with his latest record. Waylon and Buddy became good friends. Buddy had a recording date in Clovis around September 1958 and talked Waylon into coming with him and cut a record. JOLE BLON backed with WHEN SIN STOPS, LOVE BEGINS. The record was not released until after Buddy was killed in a plane crash on February 3 1959.
In December of 1958 on a trip home, Buddy again stopped in at the studio of KLLL and made a tape of YOUR THE ONE. Waylon and the station owner, Slim Corbin, were keeping time by hand clapping in the background and it was left on the track.

When the Crickets and Buddy Holly had a falling out, Buddy needed a band to go on the road with him. He got Waylon to play bass, Tommy Allsup on guitar and Carl "Goose" Bunch on drums. (picture of Waylon and Buddy Holly in 1959) Waylon files of Howard OlsonOnce they were all together it was off to the "Winter Dance Party". (original cover of the program "Winter Dance Party") The tour staring Buddy Holly, Ritchie Valens, J.P. "Big Bopper" Richardson, Dion & The Belmonts and Frankie Sardo. This was scheduled to be three weeks full of one night stands. Beginning in Milwaukee, Wisconsin on January 23, 1959 and winding up in Springfield, Illinois on February 15, 1959. The posters for this event were made up ahead of time and read "Buddy Holly and The Crickets". This lead people to think that Waylon was a Cricket.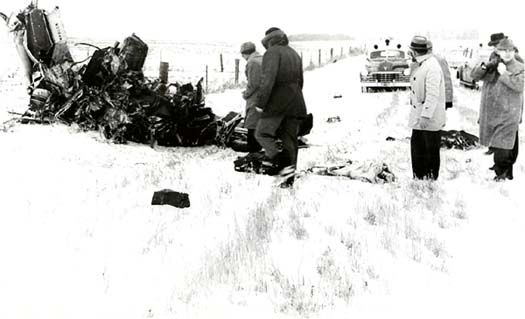 February 3rd, 1959 scene of the famous Buddy Holly plane crash
-"don't ask me who I gave my seat to on that plane, I told you that a long time ago"
A line from a song later written by Waylon Jennings
After "the day the music died" Waylon found himself back in Lubbock, Texas. His wife and two children had been staying with Waylon's mom when Waylon was on the road with Buddy Holly. Terry Vance Jennings was born on January 21, 1957 and Julie Rae was born on August 12, 1957. After the "Holly" tour Buddy Dean Jennings was born, March 21, 1961. Waylon named him after Buddy Holly and James Dean.
With the need to make ends met Waylon moved to Coolidge, Arizona, Maxine had relatives in Coolidge and Waylon knew people who were from Littlefield living now in Coolidge, Gary and Romona Tollett, who had sang backup on the Buddy Holly record "That'll Be the Day". Gary was working at KCKY radio and helped Waylon to get a job at the station. The owner of the station would let Waylon sing at the station and this led to jobs in the area "Honky tonks" around Coolidge. Gary and Waylon worked together as D.J.'s also.
The need for better money and more singing lead Waylon's move to Phoenix and landed a job at "Wild Bill's" a honky tonk out in Scottsdale. After a few months on and off at "Wild Bill's" (seems the owner liked to fire bands) It was here he meet a guy who was about to build his own club and wanted Waylon to go to work for him. This guy told Waylon, "if you go to work for me you can build the stage the way you want it". And that became J.D's Nightclub. Waylon became the hottest thing in Phoenix. The only thing hotter then Waylon was the Arizona sun.
And along came Bobby Bear and Nashville and RCA and Johnny Cash, and more little white pills.